Shooting Clinic with Dave Love
---
---
All current Sabretooths Bantam and Midget players who register for this shooting clinic are eligible to be reimbursed half of the cost ($66). Please first register and then contact James Bedford at 780-217-3717 or sabretoothsbasketball@gmail.com for reimbursement.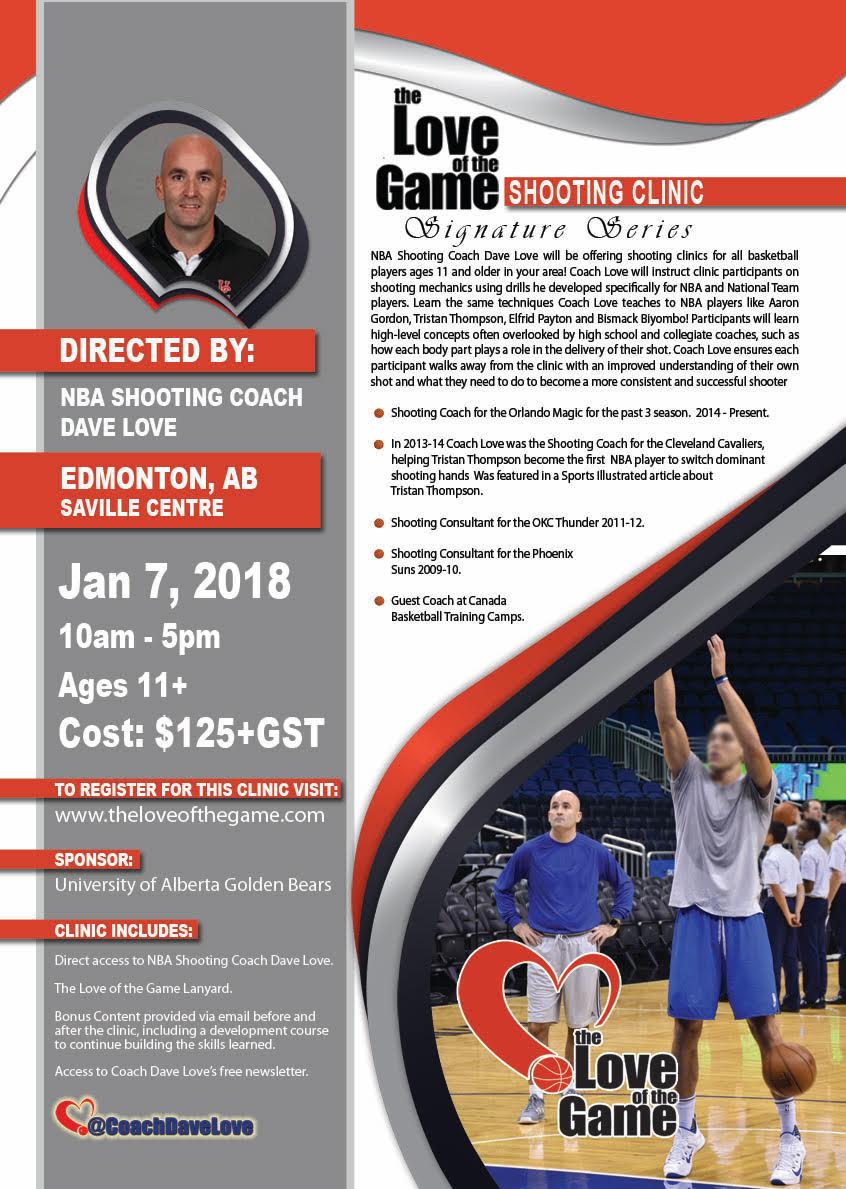 The Love of the Game Shooting Clinics is proud to announce a shooting clinic in Edmonton on January 7, 2018.
You can register at www.theloveofthegame.com
The clinic will be conducted by NBA Shooting Coach Dave Love. Coach Love is currently in his 4th season with the Orlando Magic in the NBA, and has also worked with the Cleveland Cavaliers and Phoenix Suns.
Coach Love will be working with young players (Ages 11+) on building the same shooting mechanics he teaches to NBA players, including Aaron Gordon, Bismack Biyombo, Tristan Thompson and Elfrid Payton. Players at the camp will learn what each part of their body should be doing during the shot, why they should be doing it, and given simple drills to build these habits. These drills are unique to The Love of the Game and the same drills that Coach Love uses with his NBA clients.
In addition, players will hear stories of the work Coach Love is doing with these players, learning from the development of those elite players.
Bonus Features at this clinic (Included in the cost)
The Love of the Game T-shirt
The Love of the Game Lanyard
One hour video to review the clinic
Several other on-line bonus products both before and after the clinic
This clinic is expected to sell out, so please register early. www.theloveofthegame.com
The Love of the Game Shooting Clinic Signature Series - Edmonton Jan 7
Venue: Saville Centre - Competition Gym
Location: 11610 65 Ave NW, Edmonton, AB T6G 2E1
Date: Jan 07, 2018
Time: 10:00 am - 5:00 pm
Ages: 11+